Re-homing animals used in Laboratory research or have been abused, neglected or Abandoned!
Second Chances
The Beagle Alliance gives freedom and love to animals who would otherwise be euthanized, and advocates for alternatives to animal use in science. Testing on beagles and other animals is prevalent and has gone on with minimal to no federal legislation or regulation in Canada.
THESE SURVIVORS DESERVE A SECOND CHANCE AT LIFE!
Foster/Adopt
Make a Donation
PHOTO CREDIT: Hillary Halliwell
Adopt
Looking For Forever Homes
Getting Involved
Save an Animal
Foster / Adopt
The Beagle Alliance rescues animals that have very special needs, and because of this, we maintain a thorough process when considering applicants. Animals with special needs come with incredible gifts, and as a foster or adopter, you are a very important part of their freedom and future!
Thank you for wanting to care for a very precious survivor. It takes very special people to open their homes and their hearts – we are so grateful.
Our process includes an interview, home check and reference check; to get started, please submit a completed application by clicking the link below.
Volunteer
Thank you so much for wanting to support The Beagle Alliance. We absolutely cannot do this without generous people like you! As we begin our work here, we will need volunteers in every province and territory who can help spread the word about our mission. The work and dedication of our volunteers will allow us to rescue animals from horrific situations and give them loving and caring homes.
Your time is very important to us, and we would like you to help in a way that works for you. 
If you are interested in volunteering, please click the link below and tell us more about yourself!
Make a Donation
Your generosity allows us to continue to save lives! No amount is too small and every donation is deeply appreciated. On behalf of the animals we've saved and will save, we want to thank all who have given so generously to support our mission.
Town Hall: A frank discussion of what it is like to have a traumatized dog in your home.
Lori Cohen, Executive Director of The Beagle Alliance, speaking about the Envigo Release at the North American Animal Law Conference 2023 in Toronto.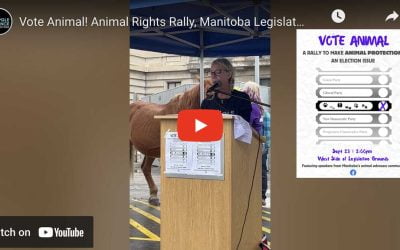 Lori Cohen, Executive Director of The Beagle Alliance, was invited to speak at a Meeting and Election Rally at the Manitoba Legislature.
This is the total number of dogs and cats that were used in testing or training facilities in Canada in 2021.
Volunteer Awareness & Advocacy
Tell us what you're passionate about – events, meeting people, writing to government officials, etc.
Build a Community
The Beagle Alliance Connect – we have innovative ways to bring people together across Canada who want to be a part of our mission. Let's get together.
Let your voice be heard by helping us reach out to research facilities and private laboratories asking them to release their animals to us.
Facilities
We invite you to work with The Beagle Alliance to re-home your eligible animals.
Education
Join us in the Fall when school is back in session. We enter the classroom and share information with our young people so that they can carry our mission into the future.
You can help animals in laboratories by avoiding products that are tested on animals.
What Drives Us
Our Mission
The Beagle Alliance is a CRA Registered charity whose mission is to give animals used in experimental research and situations of abuse and neglect, a second chance at life, and advocating for non-animal use in science. We endeavour to build a cruelty free conscious community whose desire is to make the world safer for both animals and humans.
Our Vision
To see the end of animal testing.
Make a Donation
We absolutely cannot do this without generous people like you!
PHOTO CREDIT: Artem Beliaikin